1998 Football
Division-III State Champions
Record: 13-1
Head Coach: Bob Jacoby
Assistants: Chad Williams, Jeff Miller, Doug Antle, Justin Grimm, Mike Carter, Tyler Gantz, Shane Mauger, Jim Lucente, Bill Vasil and Ryan Wiggins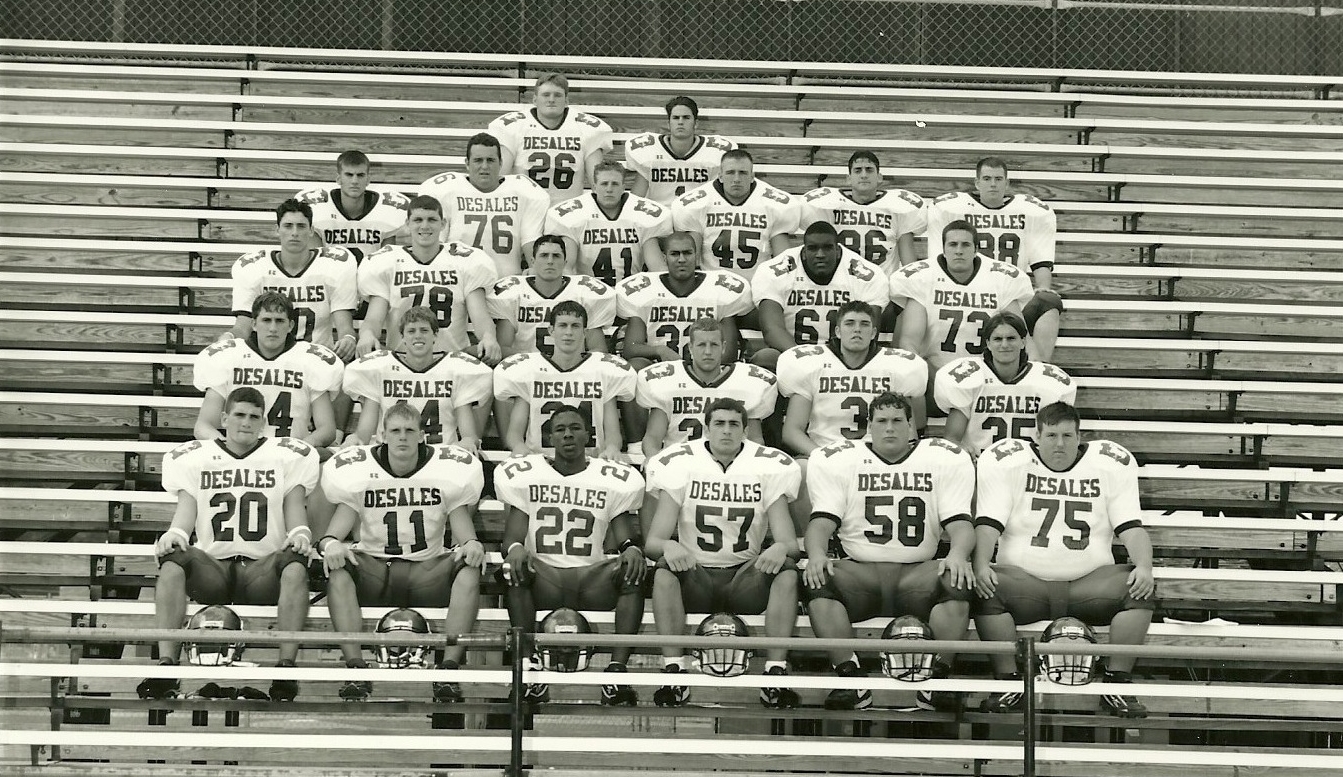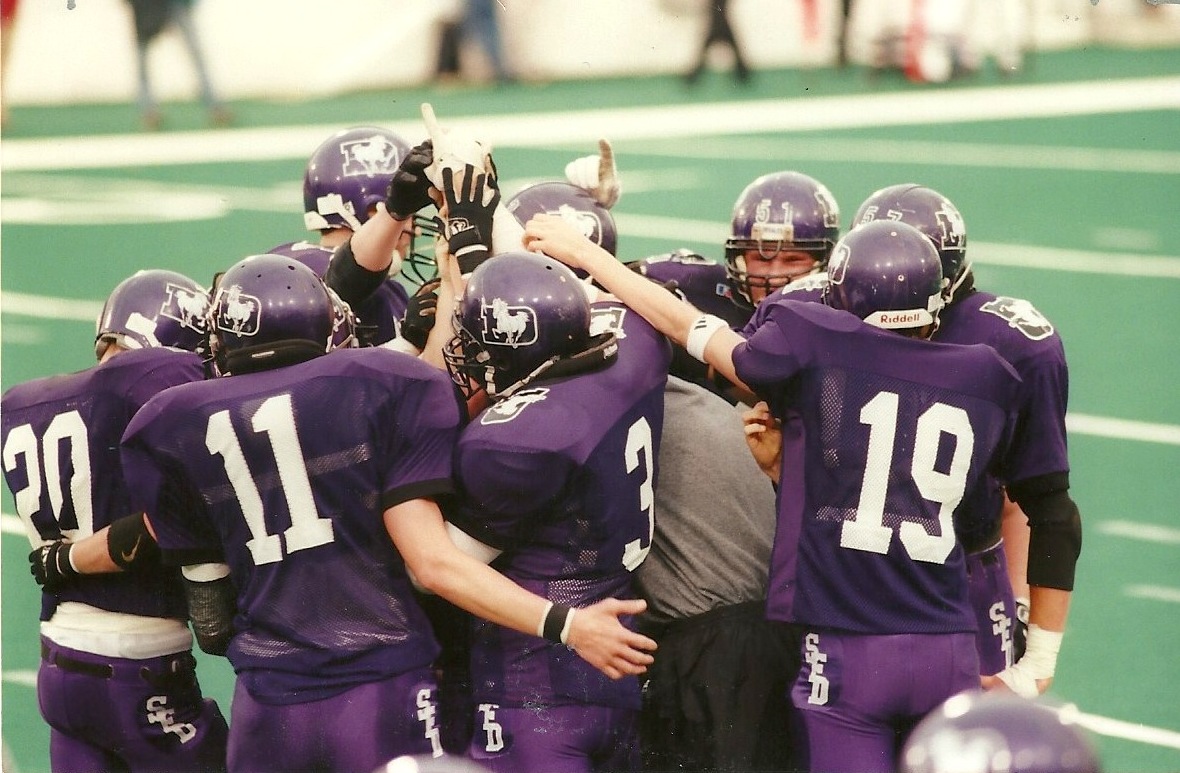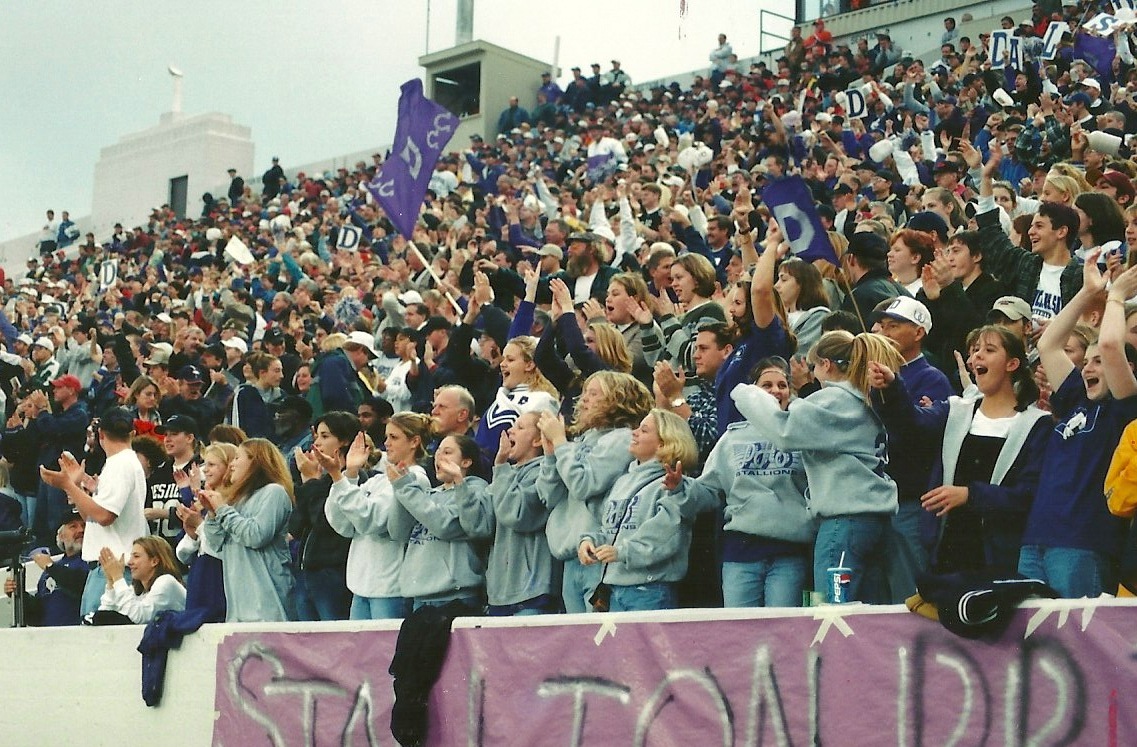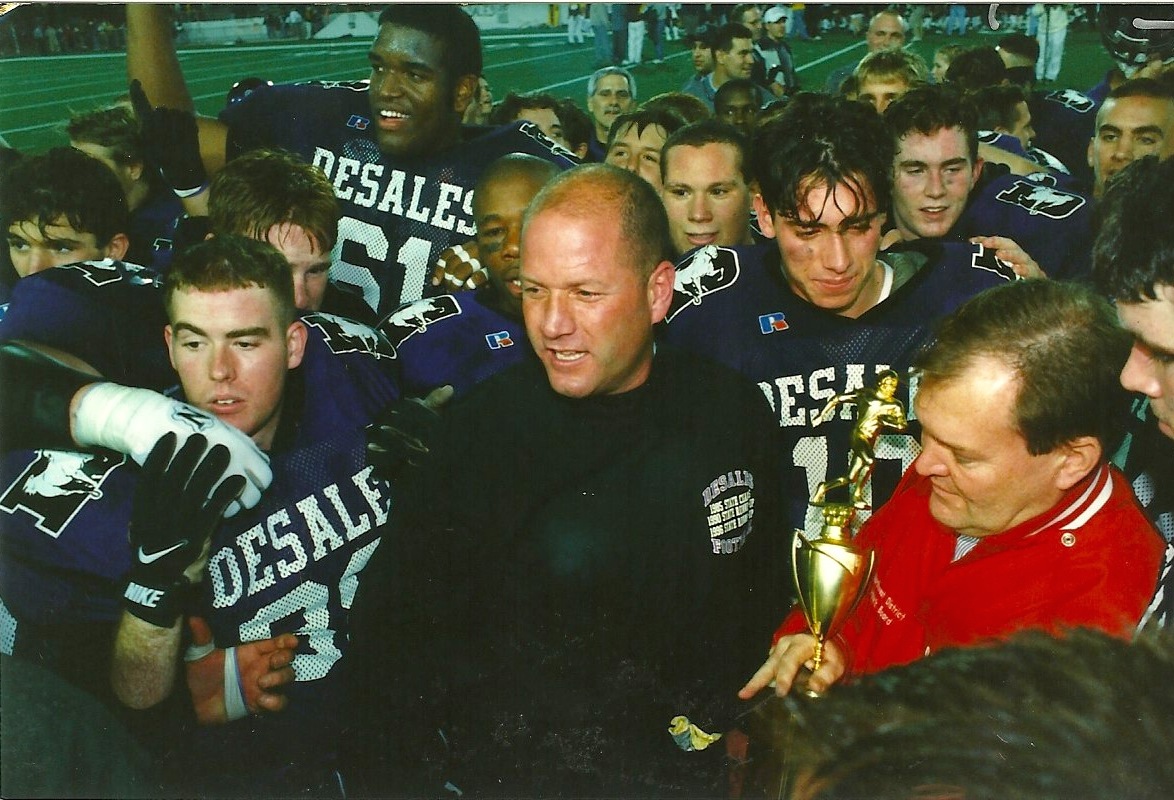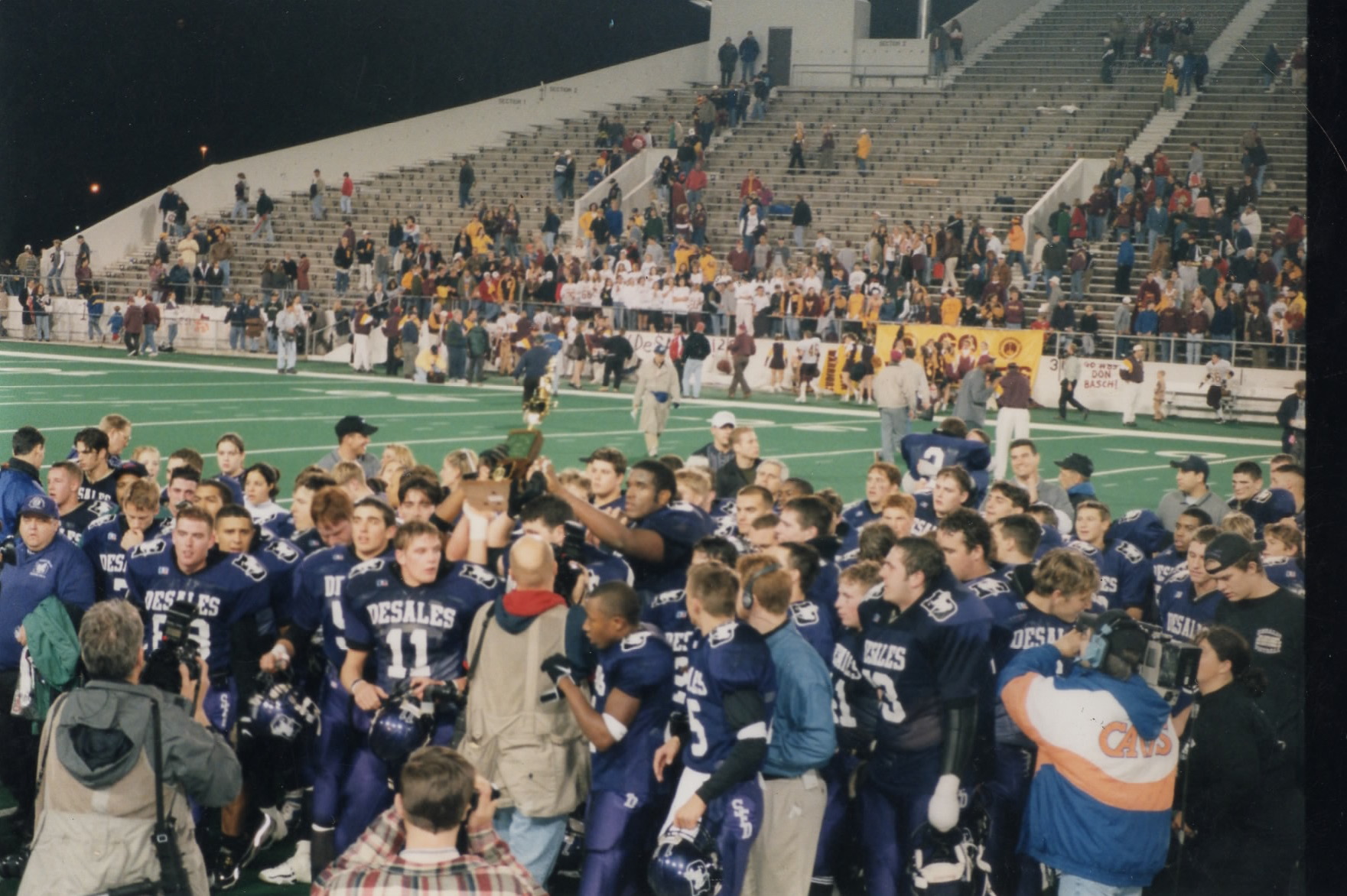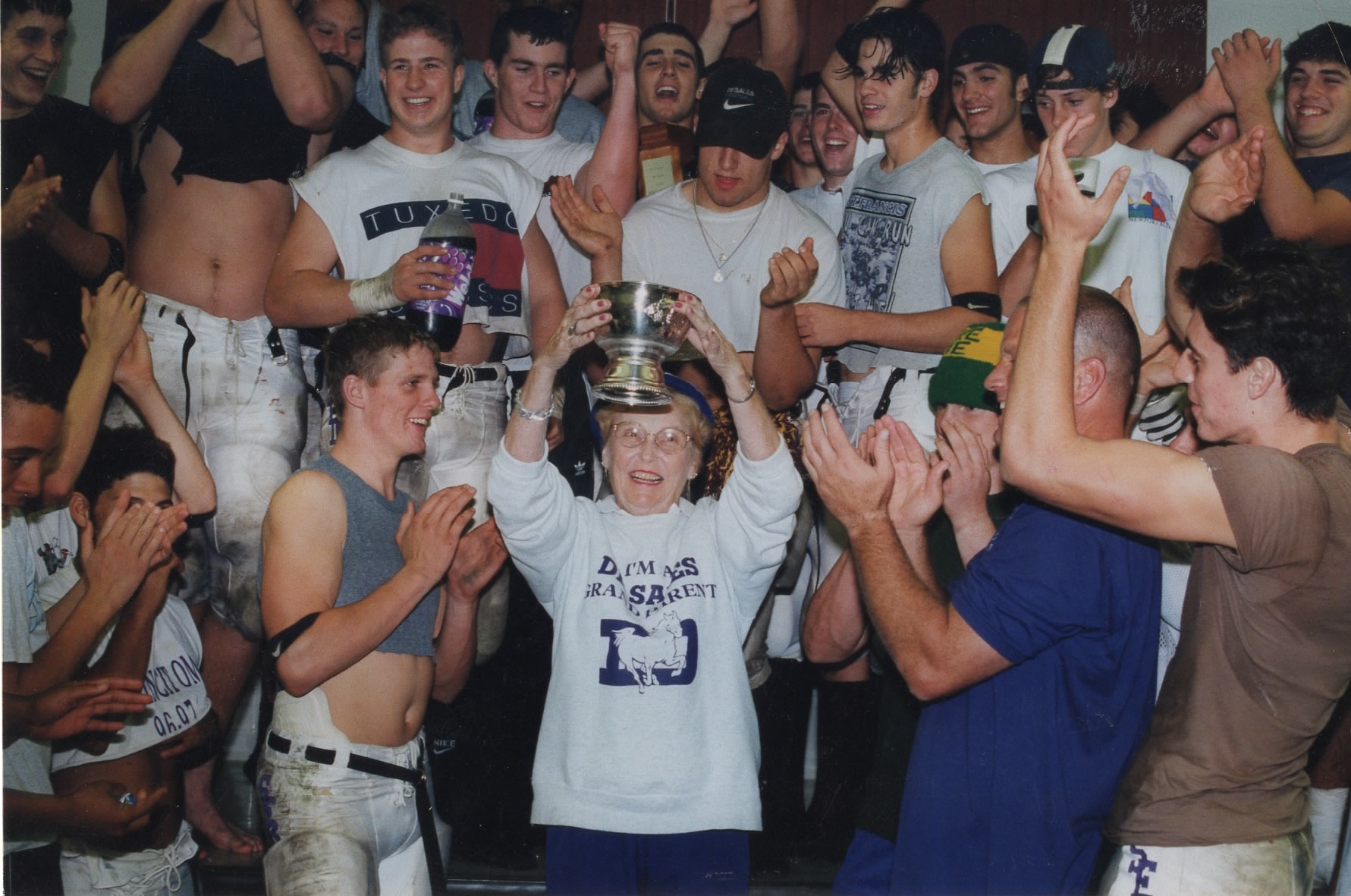 1998 SEASON QUICK FACTS
The Stallions captured the program's third state championship

DeSales became the first team to repeat as state champions since computer points were instituted in determining playoff teams (since 1972)

DeSales won its 5th consecutive CCL title (program record) and 16th overall

The Stallions made their 5th straight playoff appearance

The Stallions finished the regular season as the state's 2nd ranked team in Division-III

DeSales earned the #1 seed in Region 10, Division-III

The defense allowed only 8.8 points per game

The Stallions' defense intercepted 20 passes, led by Aaron O'Reilly, who had the most in Central Ohio with 12

Senior Quarterback Aaron Powell rushed for 1177 yards and 12 touchdowns and threw for 909 yards and 8 touchdownds

Running back David Cook led the Stallions in the regular season with 1,065 yards and 18 touchdowns

Andy McCurdy was 5th in Central Ohio in kick scoring at the end of the regular season (5 FG, 34 PAT)

The Stallions' starting offensive line average weight was 265 pounds

DeSales outscored opponents 258-68 in the first half

The Stallions returned 16 letterwinners from the 1997 state championship team
1998 REGULAR SEASON
(9 - 1)
@ Toledo St. John's, (W) 22 - 8
Westerville South, (L) 17 - 30
Beechcroft, (W) 44 - 0
Brookhaven, (W) 26 - 8
Dayton Dunbar, (W) 29 - 7
St. Charles, (W) 64 - 14
@ Bishop Watterson, (W) 14 - 3
Kettering Alter, (W) 38 - 14
@ Sandusky, (W) 40 - 15
@ Lima Senior, (W) 35 - 0
1998 POSTSEASON
Division-III Region 10 Semifinal
DeSales (9 - 1) vs. Bellefontaine (7 - 3)
Date: November 14, 1998
Location: Springfield South High School
Result: DeSales 24, Bellefontaine 7
Division-III Region 10 Final
DeSales (10 - 1) vs. Napoleon (8 - 3)
Date: November 21, 1998
Location: Findlay High School
Result: DeSales 49, Napoleon 0
Key Stat:
David Cook and Aaron Powell combined for 350 yards rushing and 4 touchdowns
Division-III State Semifinal
DeSales (11 - 1) vs. Hamilton Badin
 
Date: November 28, 1998
Location: Xenia High School
Result: DeSales 27, Hamilton Badin 10
Key Stat:
The Stallions jumped out to an early lead, scoring touchdowns on each of their first 3 possessions including a 75-yard touchdown run on the first play from scrimmage.
Division-III State Final
DeSales (12 - 1) vs. Cuyahoga Falls Walsh Jesuit
Date: December 5, 1998
Location: Fawcett Stadium (Canton)
Result: DeSales 21, Walsh Jesuit 14
Key Stat:
It was a tale of two halves for the Stallions, with the offense coming up big in the first 24 minutes, scoring all of their 21 points in the first quarter. The Stallions defense, which gave up 14 points and 238 yards in the first half, did not allow a point and held the Warriors to 61 yards after halftime.
1998 INDIVIDUAL AWARDS
First Team All-Ohio
Grant Bowman (left) - Defensive Lineman
Aaron O'Reilly (right) - Defensive Back
(Click on above name for individual profile page)
Second Team All-Ohio
Chuck Black - Offensive Lineman
special mention all-ohio
Bobby brandenstein - linebacker
David Cook - Running back
aaron powell - Quarterback / punter
First Team All-Central District
Grant Bowman - Defensive Lineman (Defensive Player of the Year)
CHUCK BLACK - OFFENSIVE LINEMAN
David Cook - Running back
Aaron O'Reilly - Defensive Back
aaron powell - Punter
special mention ALL-CENTRAL DISTRICT
brian burns
chris leonard
Honorable mention all-central district
Rob dixon
Joe dura
andy mccurdy
Tony moore
Roy williams
STALLION FORUM
We encourage team members, parents, alumni and/or fans to share their photos or favorite memories about the 1998 DeSales Football team. Click on the button below to submit your favorite memory!
Share your favorite photos with us and we'll feature them in our online gallery. Please send your photos to Snyder@Desales.co.
STALLION COMMUNITY COMMENTS