1990 Football
Division-II State Runner-up
Record: 11 - 3

Head Coach: Bob Jacoby
Assistants: Mark Crabtree, Bob Triano, Eric Springer, Brian White and John Savely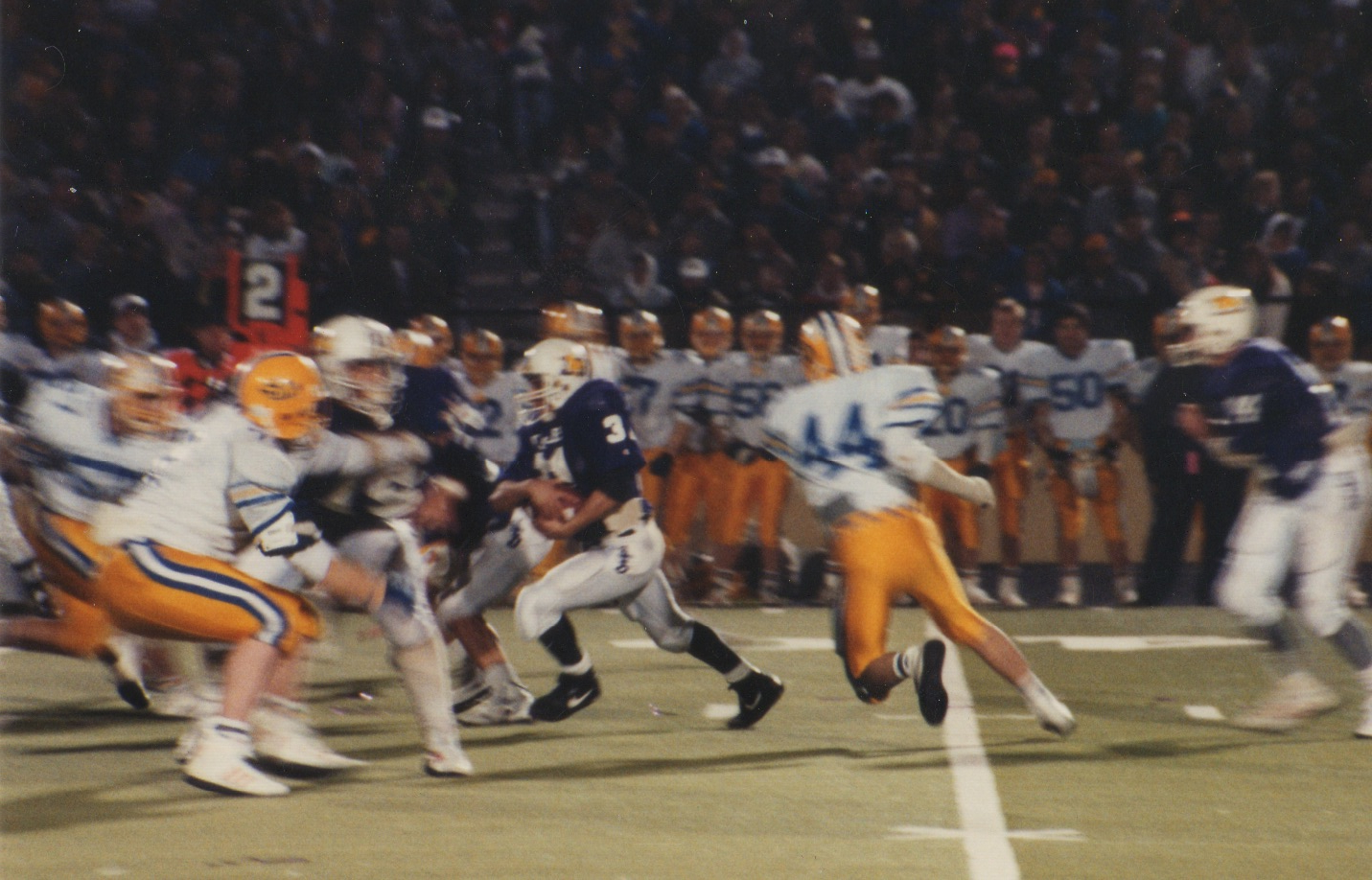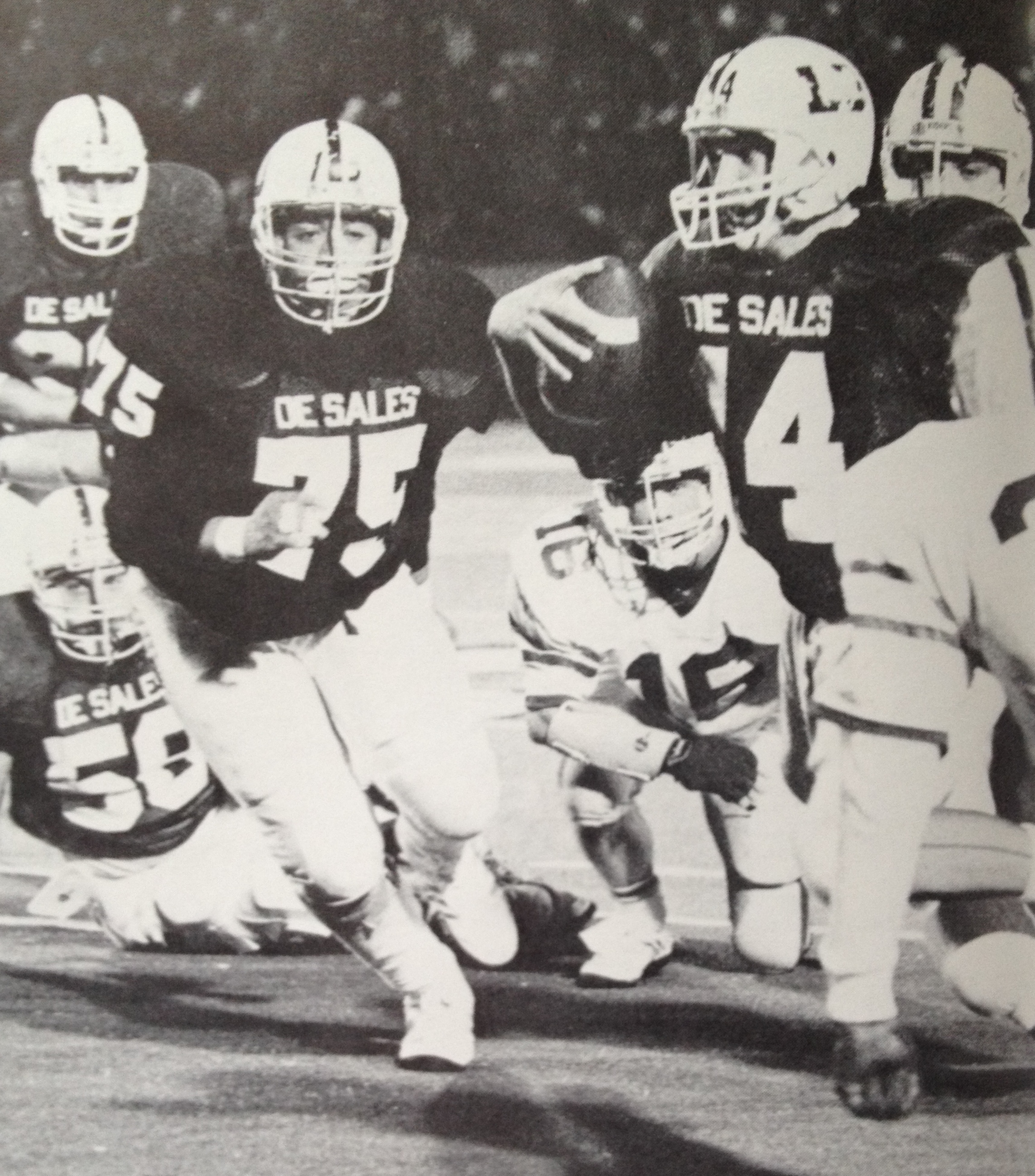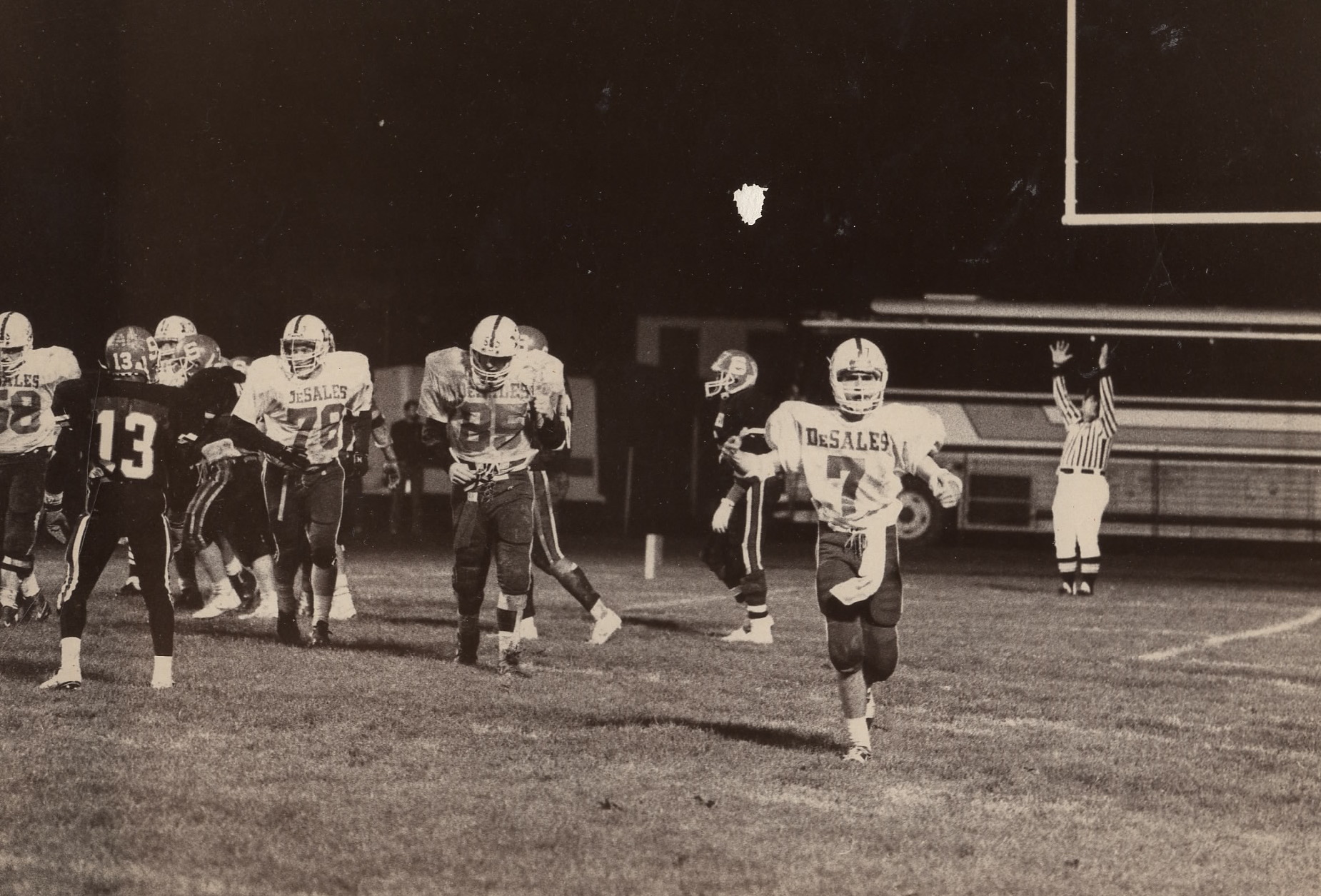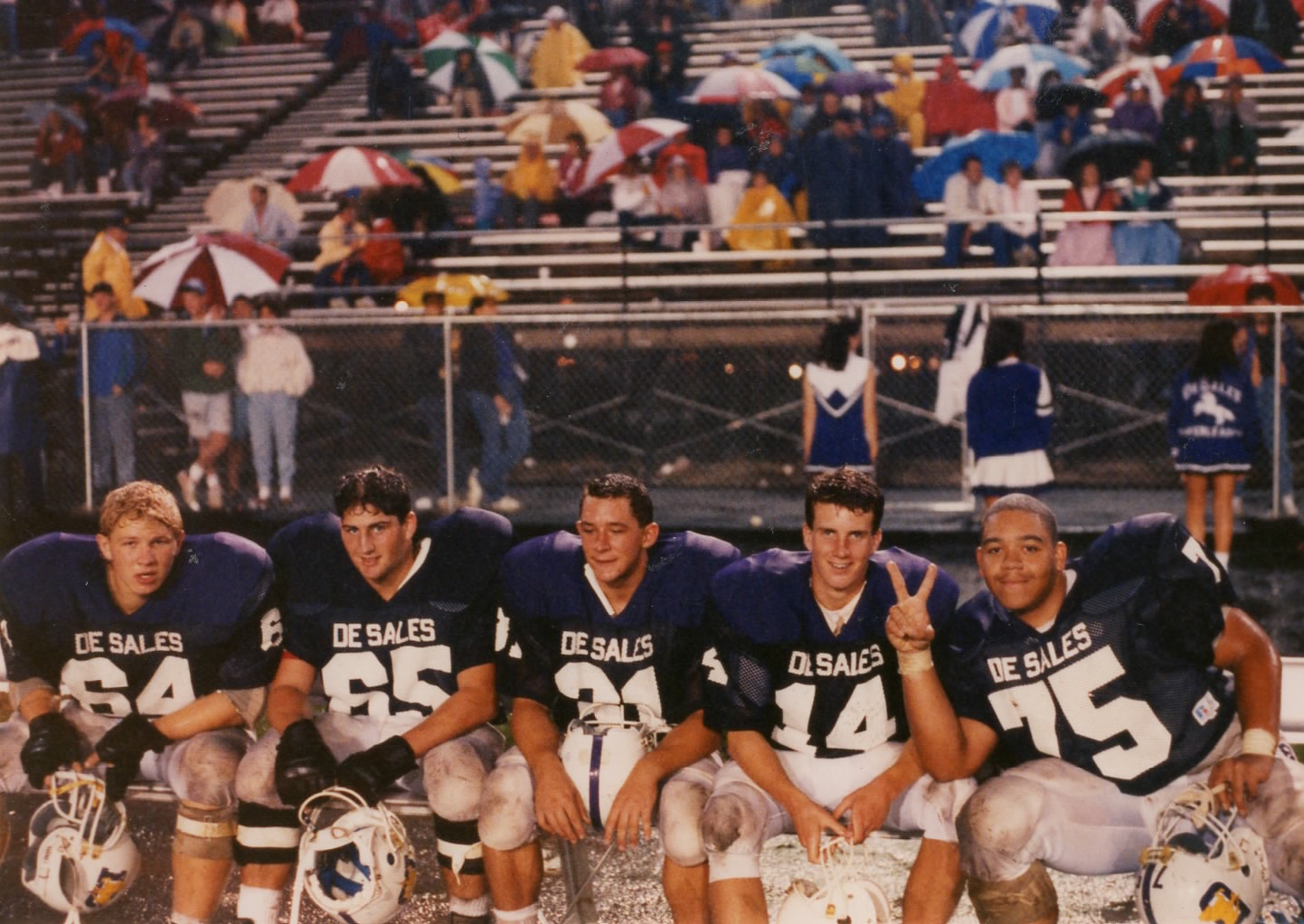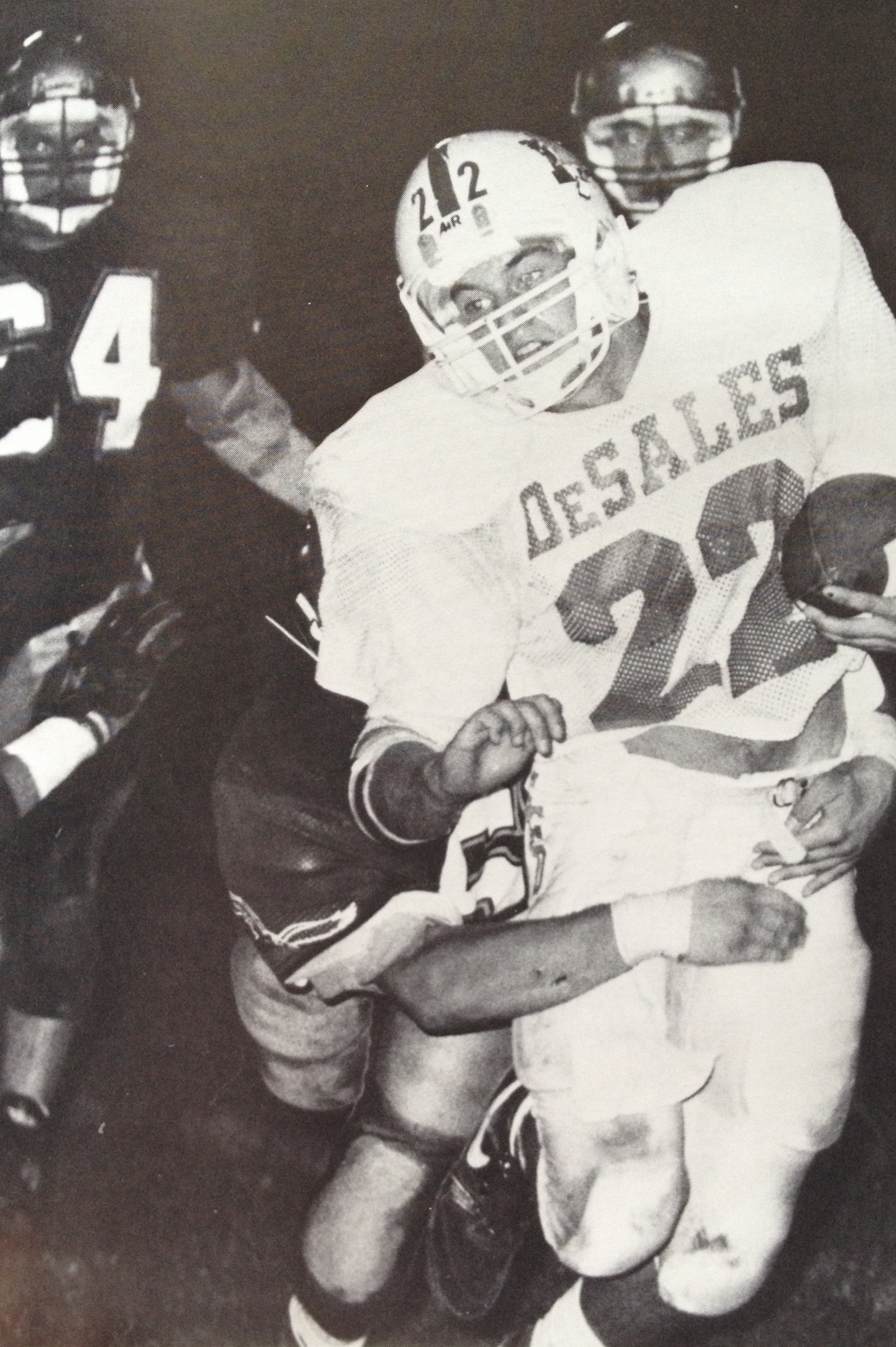 1990 SEASON QUICK FACTS
The Stallions captured the program's 2nd Regional Title

DeSales won their 10th league title

The Stallions made their 3rd overall playoff appearance

DeSales finished as the top seed in Region 7

DeSales' defense held opponents to an average of 6 points per game

DeSales senior Adam Asbeck was named the Division-II Central District Lineman of the Year

Junior Lineman / Tight End Luke Fickell was a defending state champion wrestler and was among the area leaders with 22 receptions

Steve Smith and Chad Young each had over 1,000 yards rushing

Smith broke Jamey Cua's single season rushing record, finishing over 1,341 yards

Billy Luksco led the Stallions with 8 interceptions

Linebackers John Callaghan and Chalaco Clark each registered over 100 tackles

Sophomore quarterback Brian Emmerling took over for injured signal caller Jim Delfino

DeSales started the season 4-1 or better for the 5th consecutive season
1990 REGULAR SEASON
(8 - 2)
@ Brookhaven, W 14-8 OT
Beechcroft, L 18-6
@ Logan, W 42-0
Dayton Chaminade-Julienne, W 28-6
Gallia Academy, W 42-0
@ Datyon Dunbar, L 18-17
@ Bishop Watterson, W 26-0
Akron St. Vincent St. Mary, W 17-6
@ Kettering Alter, W 31-0
St. Charles, W 21-7
1990 POSTSEASON
Division-III Regional Semifinal
DeSales (8 - 2) vs. Athens (7 - 3)
Date: November 2, 1990
Location: Fulton Field (Lancaster)
Result: DeSales 42, Athens 0
Division-III Regional Final
DeSales (9 - 2) vs. Briggs (10 - 1)
Date: November 9, 1990
Location: Gahanna High School
Result: DeSales 20, Briggs 7
Key Stat:
Running back Chad Young scored twice for the Stallions and Mike Pharion returned a fumble 20 yards for a touchdown 61 seconds into the game as DeSales advanced to the State Final Four.
Division-III State Semifinal
DeSales (10 - 2) vs. Steubenville (11 - 1)
Date: November 16, 1990
Location: Sulsberger Stadium (Zanesville)
Result: DeSales 13, Steubenville 0
Key Stat
DeSales sophomore quarterback Brian Emmerling completed 7 of 11 passes for 92 yards and threw two 2nd quarter touchdown passes, finding Luke Fickell and Mike Merrick
Division-III State Final
DeSales (11 - 2) vs. St. Marys Memorial (13 - 0)
Date: November 29, 1990
Location: Paul Brown Tiger Stadium (Massillon)
Result: St. Marys Memorial 14, DeSales 3
1990 INDIVIDUAL AWARDS
First Team All-Ohio
Adam Asbeck (left) - Defensive Lineman
Luke Fickell (middle) - Tight End
Billy Luksco (right) - Defensive Back
(Click on above name for individual profile page)
Second Team All-Ohio
John Callaghan - Linebacker
First Team All-Central District
Adam Asbeck - Defensive Lineman (Defensive Lineman of the Year)
John Callaghan - Linebacker
Chalaco Clark - Linebacker
Luke Fickell - Offensive Lineman
Billy Luksco - Defensive Back
Steve Smith - Running Back
STALLION FORUM
We encourage team members, parents, alumni and/or fans to share their photos or favorite memories about the 1990 DeSales Football team. Click on the button below to submit your favorite memory!
Share your favorite photos with us and we'll feature them in our online gallery. Please send your photos to Snyder@Desales.co.
STALLION COMMUNITY COMMENTS